Hands-on tomography course where you bring along your own sample for measurement
This is a practical session in using either Lab X-ray tomography or X -ray tomography at ESRF - where you bring your sample for studying during the day.
Time: Tue 2023-12-12
Location: Grenoble
Course aims
To prepare the best conditions of your experiment on your own material problem, with support of experts and simulation tools.
To realize data acquisition, reconstruction and data analysis of your sample.
Course plan
Session 1: Experiments
Preparing the experiment
Tomography conditions (Energy, pixel size, exposure time …)
Sample preparation
Performing the experiment
Sample positioning
Control tomography software
Running experiment
3D reconstruction of your sample
Center of rotation and motion correction
Ring artifacts removal
Beam hardening correction
Reconstruction
Session 2: Data analysis
Data analysis with Fiji and python
2D qualitative inspection of the data
3D data filtering and segmentation
3D data quantitative analysis
Data visualisation
3D visualisation tools
3D rendering of data

Prequisites
Basic knowledge of tomography form this online course.
Course organisers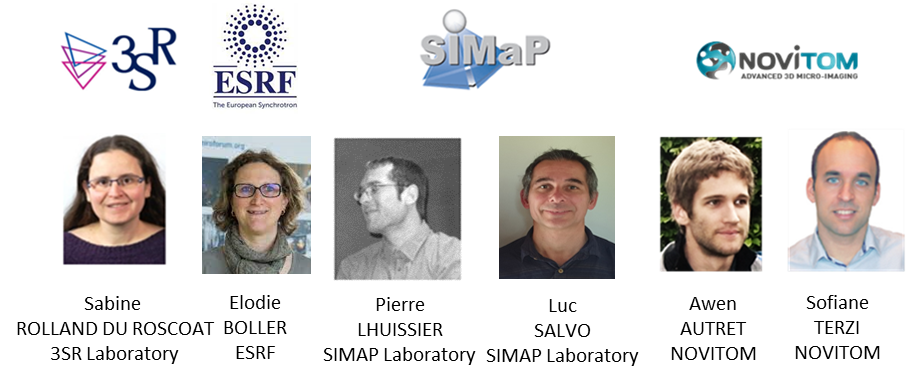 For further information
Contact either Luc Salvo : luc.salvo@grenoble-inp.fr or Pierre Lhuissier : pierre.lhuissier@simap.grenoble-inp.fr
Registration and prerequisites
Before 15 November, register here so that the course organisers can work with you in defining your problem before the hands-on session in Grenoble This hands-on course is now full. People are still welcome to attend this online course on 30 November.
The course fee is waived.
Participants need to organise and pay for their own accommodation, travel and food.
Acknowledgement
This course is undertaken as part of the MetaLSF project, which is co-financed by the project partners and the EIT RawMaterials, which is a body of the European Union.